I've designed the Nutrition and Wellness Coaching programs to help you smoothly take charge of your health using food, movement, and mindset as medicine. My role as your coach is to help you move along the path of where you are to where you want to be as fast as possible. It is also to provide the space where you can be your authentic self, to allow healing to take place. The strategies I'm using are intended to evolve as your needs do.
Below you'll see the description of my nutrition and wellness philosophy, that all of my programs are based upon.
The Awareness Phase
A profound understanding of how food, movement, and one's mindset impact health and well-being. The understanding that all diseases begin in the gut and that gut health (and by extension your whole health) is directly managed by the microorganisms that live in your gut. The profound understanding that your mind is your most powerful medicine.
 These are some formulas for success (some call them mantras):
Healthy gut flora = healthy gut = healthy you
Moving your body and  using gravity to your advantage = long functional life
You are what you think you are = I think I am healthy, happy, __________
What actually happens during this phase? I will provide you with an education on the subject according to your needs, you will internalize the information and start applying it to your daily life. You will be required to journal food intake, movement, and feelings/emotions daily and/or weekly.
In the Trenches Phase
The "In the Trenches Phase," as I like to call it, is when it all comes to life. You'll begin to do it. The transformation Is in the actual doing it. What will you do?
plan your meals ahead of time
shop from the local farmer's market and other local farms
refine your pantry and refrigerator
get your kitchen ready so you can cook
cook wholesome, healing foods
you'll know how to socialize without feeling sick or guilty afterwards
incorporate habitual movements into your daily life
sleep, rest, play, meditate, just BE you
As you can imagine, this phase takes the longest to go through, and often any of the other phases may overlap with this one.
Cherry On the Pie Phase
Once you have a strong foundation (the food you eat, the mindset for success, and the movement) then we will add things such as supplements and essential oils. We will talk about gentle detox modalities, perhaps other therapies such as homeopathy, acupuncture, aromatherapy, and other healing modalities, etc.
The Environment Phase (emotional  & physical detox)
During this phase we take a closer look at your environment and how it contributes to your success or failure.
Physical environment (air, water, household cleaning supplies, personal care and beauty supplies), what they are and how they affect you (support you in reaching your health and wellness goals or corrode you and your health).
Emotional environment. The people in your life and what you read and watch (flood your mind with) are also part of your environment, and you'll need to do an inventory of what they are and then assess how they contribute to your success or defeat. You'll learn to master the power of your mind.
Again, the order in which one goes through these phases is very unique to each individual, and often there is an overlap of all three as the health and healing journey unfolds.
The Maintenance Phase
This phase encompasses all the other phases and is the longest of all. It's the continuous work each and every one of us must do to maintain the perfect balance of the three pillars of wellness: mindset, food, and movement. 
The diagram below illustrates the continuum of coaching.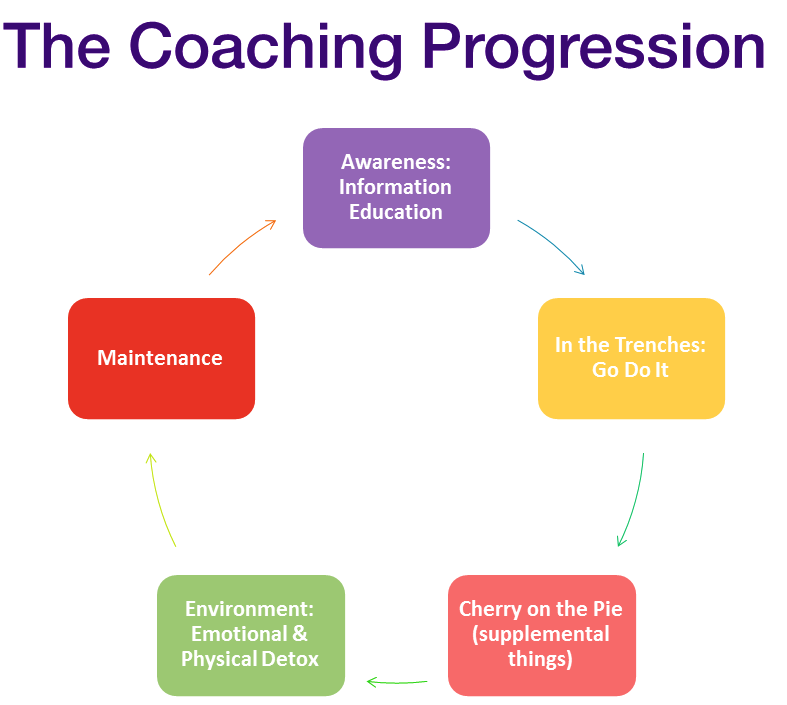 Coaching with Mihaela encompasses:
A comfortable conversation, in a safe, confidential environment, that will help us understand what your biggest frustrations are, what have you tried so far and worked and what didn't work and where are you wanting, dreaming, wishing to go with your health and life. I call it the Get Clear Session.
A plan of action done for you and with you, broken down into small and easy-to-implement action steps. I will sit down with you and help you get clear on your health and life goals, then we'll identify the steps you'll need to take to reach those goals.
Advanced nutrition support. I'll bring to the table whatever nutrition theory will best fit your needs and help you implement it, make it your own. You can count not only on my life experience of traditional, local, seasonal eating, but also on over a decade of academic nutrition studies and work with hundreds of clients.

Meal planning, recipes, shopping list, step-by-step "how to implement" reports. Having access to these tools will make your transformation work much easier and more efficient. It will become second nature before you know it.

Movement and mindset integration. It's vital to have all three pillars of unsurpassed health strong and in balan

ce. I will provide you with the tools you'

ll need to fuse movement and mindset with food.

Health and Wellness Priorities, Goals and To Dos, that cover areas such as sleep, food, movement, mindset, spirituality, relaxation and ME time.

Accountability,  Accountability, Accountability. 

Co

aching is what you make of it! I will hold you accountable to your action steps. I will provide you with the best tool to keep track of your progress, so both you and I are in the know. Ultimately, only you can make things happen.

Systematic focus, inspiration, and support. After each call, you'll feel inspired and motivated to keep on doing the (hard) work, you'll stay focused on the big picture, so you can do the things that need to be done, despite anything that may be happening in your environment.

Email support. You can feel certain that your needs will be met with regular email support.
Note: Coaching with Mihaela doesn't include in-person or virtual shopping, cooking, pantry revision, except for what comes with the coaching package you decide to go with. I've designed the coaching programs to help you get the right knowledge from the get-go, to save you time and money in the long term, to make you more effective and successful at implementing and embracing the change. This comes from my knowledge and expertise, with over 12 years in the nutrition and wellness field, as well as a long life of whole foods and a traditional wisdom-based lifestyle, and from helping others reach their dream health and life.
How do you know if you're ready to start a coaching program together?
Are you ready to…
take full responsibility for your health and wellness?
take 1-2 years off your learning curve and thus reach your goals faster without the guesswork?
get over any fears and beliefs that are holding you back and take charge of your health and life?
understand the importance of having a teammate to help you continuously move forward?
be accountable?
invest time and money into your health, wellness, and life?
have more fun and really enjoy the process of getting healthy and feeling vibrant?

be empowered and grounded with the truth of who you really are and what you are 

capable of?
If you answered a wholehearted YES, you are ready to start coaching NOW.

If you answered "yes" and have more questions about Coaching with Mihaela go to FAQ section down below.
Want to hear about other people's success stories working with Mihaela? Check out Success stories now!
What does each program offer?
Below you'll see the breakdown of the different packages I offer (VIP, and Basic 3 and 6 month). The description below will help you understand how we will spend our time together and what happens each month during our coaching together, in terms of one-on-one time and access to the resources I provide.
***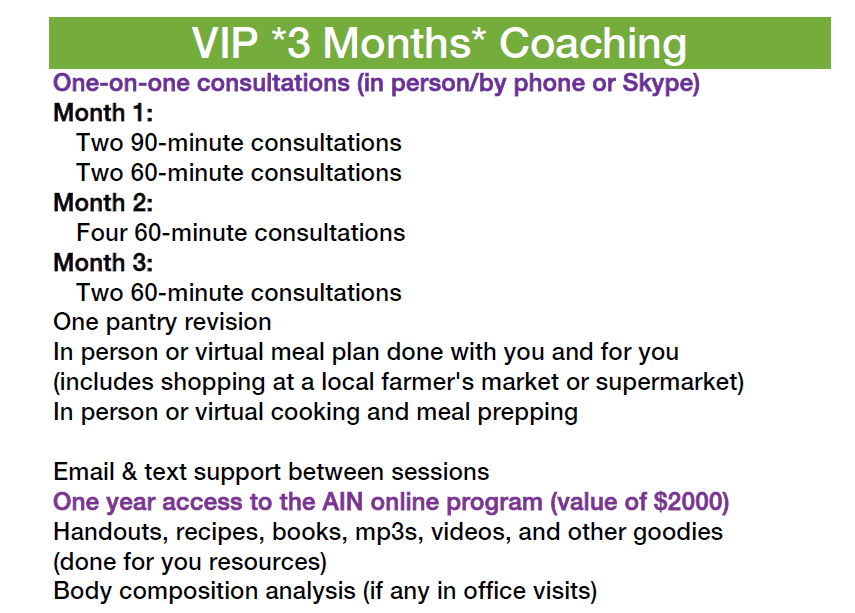 ***
***

***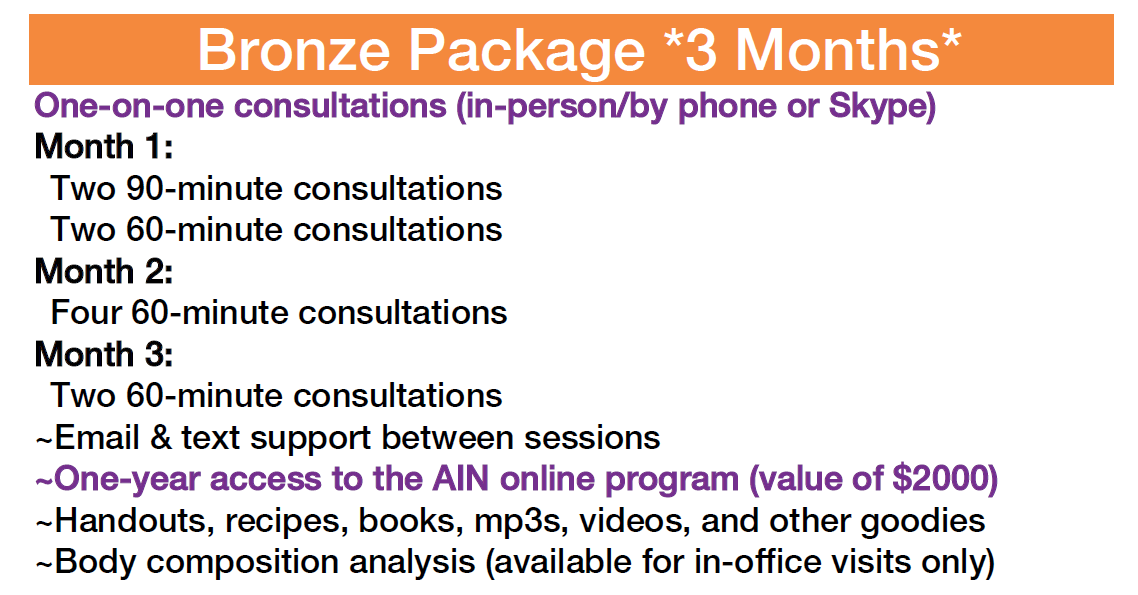 ***
***

***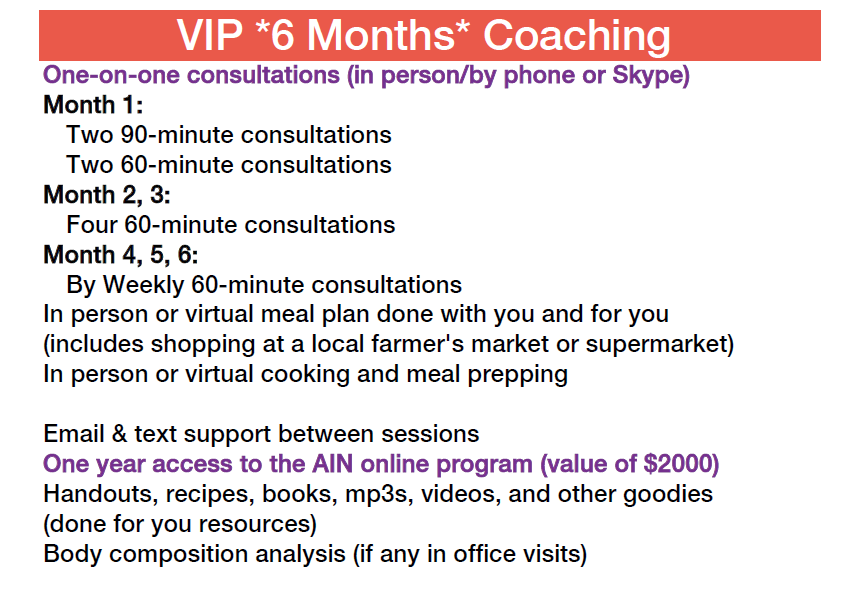 ***
***

***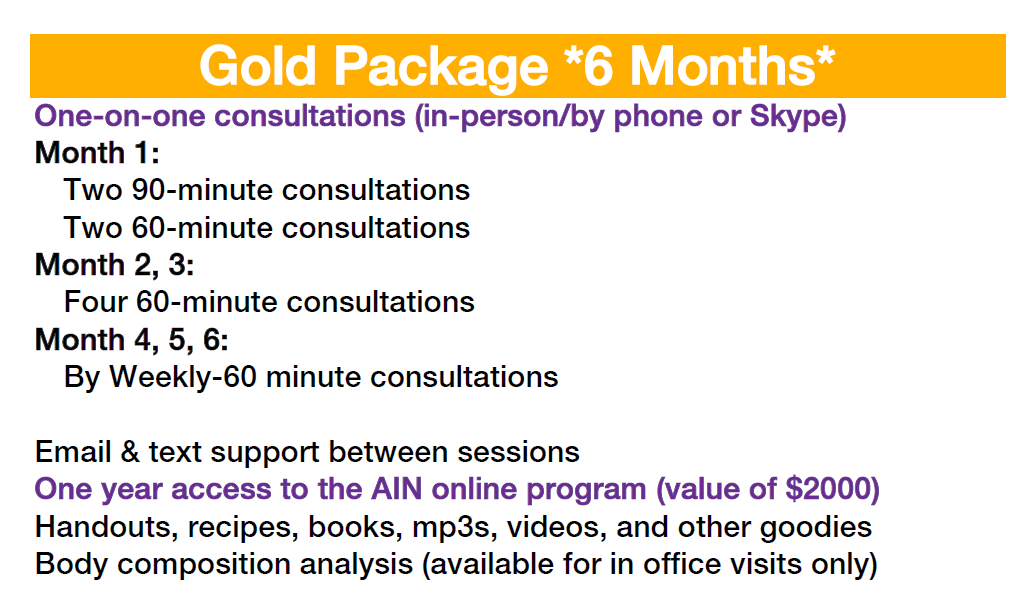 ***
***

*Please note: Each coaching program has a 1-month happiness guarantee. In an effort to ensure that both you and I enjoy working together, if after the first month of coaching you do not feel it is right for you, you can cancel your contract. 
**Please note: While I will do everything within my capabilities to help you succeed, there is no guarantee you will achieve any specific result. As with everything in life, it is what you make of it. Committing to take charge of your health will be one of the biggest and most rewarding experiences of your life no matter what the outcome. I'm here to give you the tools you need to move forward to your health and life dreams; however, making that dream a reality is ultimately up to you. 
Are you ready to begin your health and life transformation?
***

***
Frequently Asked Questions
***
I've tried many things (gluten-free or dairy-free diets, I even tried GAPS on my own), but I didn't get the results I was looking for. I want to feel great. Should I go through your program? How is it different than what I've done so far?
Absolutely! Together we'll see what you've done, why it didn't work, what you haven't done yet, and what you're doing that prevents you from reaching your health goals. A good starting point for you would be the (free) 3-part video series "5 reasons you're still sick and overweight (even if you eat healthy) and what you can do about it."
I don't know anything about food, how to shop, cook, or any of that stuff, but I know I need to change what I'm doing now, otherwise I'll hit rock bottom. Is your program too advanced for me?
No. My programs are not cookie cutters. I custom-make all of my programs to meet my clients' needs and lifestyles. As one of my clients said, "The program is more about fitting a healthy lifestyle into one's daily schedule." So the program is not too advanced for you; it will meet your exact needs and wants. It will meet you where you are and take you from there to the next level.
Will I have to spend more money beyond coaching with you?
Yes, you will need to buy kitchen supplies, food, supplements, and other such things.
How do I know I'm ready to work with you?
If you're not sure one-on-one coaching is what you need, I recommend you go to the Start Here page and see which one of the 2 free programs best applies to you and start with that. (You may even benefit from taking both). It will help you clarify where you are and where you want to go, how food, movement and mindset play a role in your health and happiness. If after you go through the free programs you are still not sure if you should take a coaching program, then please contact me, and I'll help you decide. You may also want to check the Success Stories page.
What types of conditions have you been working with?
A wide range of conditions can be addressed by using real whole foods and lifestyle modifications; these include but are not limited to:
Attention Deficit Disorder (ADD)
Attention Deficit Hyperactivity Disorder (ADHD)
Autism
Cancer
Celiac Disease
Detoxification/Immune Support
Depression
Diabetes/Insulin Resistance
Digestive Disorders, such as GERD/IBS
Energy/Fatigue
Fibromyalgia
Food Allergies/Sensitivities
Heart Disease
High Blood Pressure
High Cholesterol
Weight Management/Metabolism
Who are your programs not suited for?
Great question. It's important to know who the program is NOT for because I only work with the people that are a right match for me and I for them. It's only fair to ensure that everyone has the best experience possible and we create a winning environment.
So the programs are not for:
Complainers, doubters, procrastinators, people who will come up with constant excuses for why they are not taking action and getting things done.
These programs are designed to suit those who want to take 100% responsibility for their health and life results. It's for those who realize they are in control of their destiny and are willing to do what it takes to create the life and health they love.
Therefore, there is no time for complaining about the work involved (yes, you will have a lot of work to do) or for doubting the system or how much time you don't have.
These programs are designed to push you out of your comfort zone and challenge you in a new way, so you can bring your health to the next level. You need to be ready for that and be excited about it. If you are a coaster or looking to find a "quick fix", this is not the place for you.
***